Solutions
Recruitment
Recruitment
The Recruitment add-on extends the hiring features of the HR application to further enhance your recruiting efforts. Complete requisition management enables you to open and fill out job requisitions electronically, route them through a configurable approval workflow, and post and track the open positions. A builtin applicant seeker engine lets you answer standard or customizable questions about an open position and automatically search the web for suitable candidates. You can also recruit directly from social networking sites such as LinkedIn®. A Hiring Management Console with role-based dashboards gives managers and recruiters easy access to key information, while resume parsing reduces timeconsuming data entry. Building on the hiring tools and capabilities available in the HR module, the recruitment add-on helps you find, track, and select best-fit candidates who will contribute to your organization's continued success.
With more than 200 million members and over 13,700 corporate clients, LinkedIn has become the tool of choice for employers and recruiters seeking new workers.*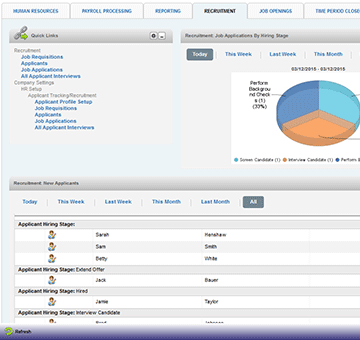 *Jay Fitzgerald, "LinkedIn Is Now the Preferred Tool for Recruiters," The Boston Globe, Jan 13, 2013, http://www.bostonglobe.com/ business/2013/01/13/linkedin-becoming-tool-choice-for-job-recruiters/dC5eoYkMsPyC7FxltkqL6O/story.html.